Brad Soper and Dave Clement
Prior to the COVID-19 crisis, companies across sectors were moving toward service-based strategies due to a number of challenges such as commoditization, price pressure, technological disruption, stagnant growth, and untapped market potential. Over recent months, and due in large part to the pandemic, priorities have continued to shift, making servitization more relevant than ever.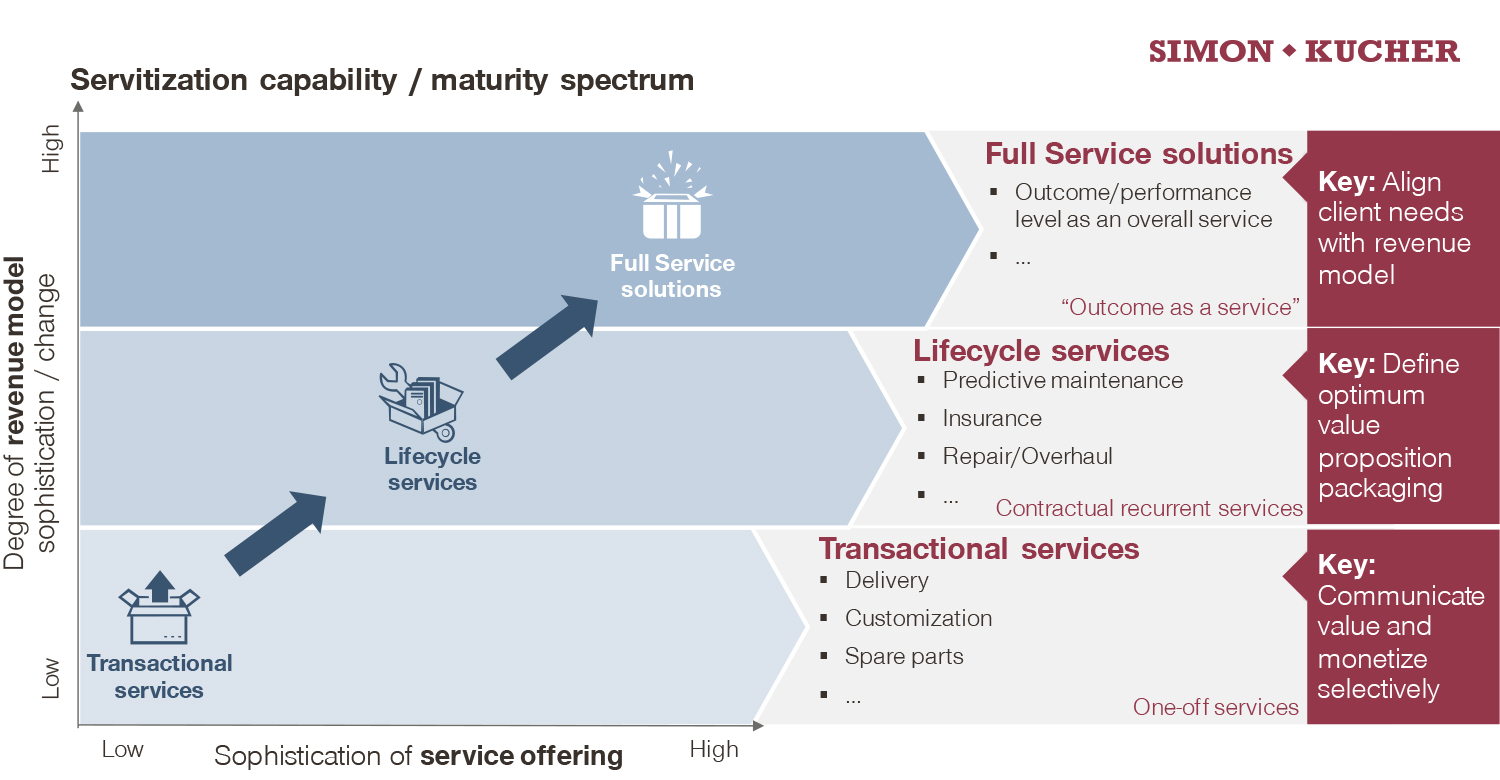 As a global consultancy focused on topline strategy, we at Simon-Kucher & Partners recently surveyed more than 200 commercial function leaders across multiple countries and B2B industries in June to understand the revenue impact, performance drivers, and key benefits of service-based strategies. Our global survey not only reveals the importance of services as a future source of sustainable growth, but also explores the success factors across the servitization journey, from one-off transactional services to full service solutions.
Impact of service revenues in the near future
A key aim of our survey was to explore the revenue impact when companies move away from the traditional product-centric model and switch some or all of their focus to services. We found that an impressive 95% of firms plan to more than double their service revenue over the next three years, with the greatest absolute potential seen by electronics and machinery companies —the two industries with the largest shares of service revenues today (12% and 19%, respectively).
The survey also revealed that revenue growth potential for companies depends on the type of service offered. Introducing one-off services for transactions such as delivery, customization, and spare parts can increase a company's revenue by up to 130% (from 7.0% of revenues today to 16.1% three years from now). Contractual and recurrent lifecycle services, such as predictive maintenance, insurance, and repairs have the potential to increase revenues by up to 93% (from 12.9% of revenues today to 24.9% three years from now. Full service solutions, which drive the greatest share of service revenue today (16% of revenues), still have significant potential with an outlook of increasing revenue by up to 102%. Meanwhile, our study also showed that chemicals and building materials companies currently see the lowest shares of revenues coming from services (3% for each), but expect the fastest growth (181% and 211% respectively) in the years to come. So what can companies considering additional servitization learn from the top performers in our study?
Performance drivers and key benefits experienced by service "winners"
Top-performing companies confirm that the greatest benefits come from rolling out full service solutions as opposed to transactional services. These benefits include improved customer retention, financially more attractive offers, and better monetization of performance. However, key to their success is their close relationship with end-users. In particular, companies with the strongest aftersales report the highest service revenues, e.g. machinery (19%) and electronics (12%), providing a benchmark for industries that are looking to grow through servitization. Finding ways to get closer to end customers, e.g. through direct sales, end customer training, data delivery, etc. will be crucial.
Despite the aforementioned benefits, our survey also found that four in five companies struggle to charge for services in general, with the number one driver of ineffective monetization being the fact that companies often think service delivery is a cost of doing business despite its ability to be utilized as a differentiator. It cannot be emphasized enough that what is given away for free has no value. Improving monetization is crucial to unlocking value and achieving revenue growth.
For those attempting to monetize their service offering, customer openness was named as a significant implementation hurdle. As such, improving sales capabilities and defining the best revenue model is critical for adoption. We find that less successful companies underestimate the direct link of offer design and price metric (rather than price level) to drive penetration and user adoption. As customers find it difficult to estimate costs, removing this main purchasing barrier should be a top priority.
Servitization is a journey, but you can start tomorrow: Simon-Kucher's five-step servitization framework
In response to COVID-19, it is likely your company's priority is to keep cash on hand and mitigate risk as much as possible. However, growth is still important, and servitization is here to help. Even the smallest changes in basic services can mean quick-wins for cash generation and the beginning of your servitization journey, with the ultimate goal being full service solutions. Companies have switched from selling jet engines to selling flying hours, from selling cranes to selling moves, or from selling tires to kilometers traveled. Our five-step servitization framework is there to support you at every step:
Strategy and segmentation
Definition of customer needs and alignment of needs with market opportunity based on market trends and competitive analysis.
Design and offering
Creation of service portfolio and designing service packages to meet key needs of customer segments.
Monetization model
Aligning on price model, metric, and level based on service value and customer willingness-to-pay. How you charge is as or more important than how much.
Go-to-market and value selling
Defining roles and responsibilities across the organization and empowering sellers via value selling training.
Process and IT systems
Managing the subscription process via ERP/CRM/ CPQ integration.
The majority of surveyed companies agree: especially now, in times of no or slowing volume growth, servitization is key to providing a new, long-term source of profitability. Many sectors have already adopted service-based strategies and revenue models and are now exploring ways to optimize them. What about your company? Are you going to wait until next crisis for the servitization shift?
For more detailed insights from Simon-Kucher's Servitization Study, reach out to Brad Soper and Dave Clement today.